Welcome to the page I'm developing as an adjunct to my face to face teaching in the field of Somatics. This is an umbrella term for Somatic Education and Somatic/Body Psychotherapy.
These resources are for your own personal exploration and not to be tried out on clients/patients unless you have trained in this work.
Please remember that any form of self-development work requires self-care, so please make sure you sensitively watch for warning signs in yourself, such as pain or emotional reactions, which are signals to go slow or leave off for a while. I recommend you put into place ways of processing your responses to this work, such as journalling, artwork, counselling, psychotherapy or supervision.
Hope this is useful,
Rosey Faire
My Somatic Education teaching handouts
The following documents can be downloaded here. Please acknowledge the source if you quote material from these in your own work.
The Somatics Family and Relatives
The Elements of Somatic Education
Improving My Posture and Movement
Applying Somatic Education to Everyday Life
Practical Body-mind Resources for Self-care
My Somatic Education Booklets
During my years of teaching somatics to students I produced three booklets intended as guides for continuing somatic and rhythmic explorations at home. They are described below and can be obtained by emailing me.
Please acknowledge sources if quoting, and if you find them useful, please donate their worth (each was between $8-12) to save the endangered orangutans: <http://www.orangutans.com.au>
Exploring your personal bodymind processes: questions for self observation, experimentation and contemplation
This six-page booklet contains a series of questions based around the stages of a cycle of bodymind processes: centering, taking in, grounding and connectedness, expressing and contact, and finally, life cycles. "The following areas for self observation may help to reveal and dissolve the obstacles to the natural flow of your bodymind processes. Try not to give each question an immediate mental answer; rather, take time to let your bodily self (or unconscious mind) give you its insights. Using only one question a day, to which you periodically return your attention, will be more beneficial than answering them all at once and forgetting them. Less is MORE."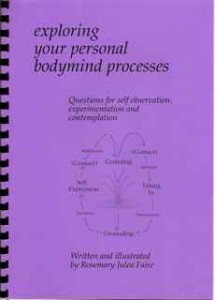 centering, taking in, grounding: practical exercises
This 12-page booklet contains many sensing-moving and reflective exercises that can further deepen your self awareness and allow these stages of the cycle of bodymind processes to function freely.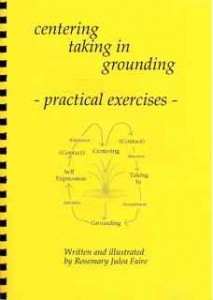 Rhythm in Therapy and Education
This 18-page booklet, based on the cycle of bodymind processes, contains many ways in which rhythm can be used to facilitate each of the stages of this cycle.
My paper on Somatic Education in the teaching of PDHPE:
Even smarter bodies? Increasing the somatic literacy of PDHPE teachers
more to come…
More resources:
My partner, Alex Nicolson, is a senior teacher of a Somatic Education method called the Alexander Technique.
Here is a link to our website which contains information about Alexander Technique.
On the following links you will find more about Body-Mind Centering®:
Llewellyn Wishart, Lecturer in Early Childhood Education, Deakin University and Certified Body-Mind Centering® Practitioner
Kim Sargent Wishart, Certified Body-Mind Centering® Practitioner: http://kimsargentwishart.com/